How to Draft a Flutter Sleeve Pattern

What is a "flutter" sleeve?  It's a full, flowy - and usually short - sleeve that's perfect for a summer top or dress.

This page shows you how to create a sleeve using your blouse block. Don't forget to finish with hems and seam allowances!
---
Drafting the Flutter Sleeve
Cut along these lines from the hem almost to the sleeve cap.  It's best to keep the sections connected at the sleeve cap so they don't get out of order, but it's not a problem is you accidentally cut through the edge - just don't re-arrange the pieces!
You can adjust the pieces to add as much or as little flare as you want - for a fuller flare and more drape in the sleeve, spread the pieces about 2" each, until the side seams are almost horizontal.
The final shape may seem a bit strange, but it will produce a nicely draped flare at the hem.
All of the fullness in this sleeve is at the bottom - there is no gathering or "puffiness" at the sleeve cap.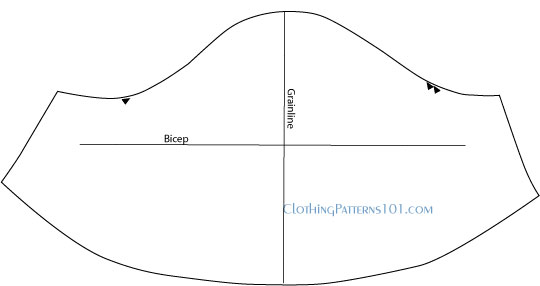 Give this one a try on your next garden party dress or warm weather top!
What's the Next Step?
Decide how you'd like to use this sleeve - on a dress or top - and the neckline you'd like to use.  In this case, I'd keep the focus on the sleeve, so a simple neckline compliments the sleeve nicely.
And remember to add seam allowances and a hem before finishing your pattern!

More Sleeve Styles
Return to Clothing Patterns 101 Home Page

ClothingPatterns101.com does not sell the personal information of its users to anyone, ever.