Find Sewing Classes to Upgrade Your Skills

This site isn't about learning how to sew; I assume you already have some sewing skills.  It's essential to know how a garment goes together before you begin drafting a pattern.
On the other hand, when you put the time and effort into designing and drafting your own patterns, and creating your own unique fashions, why not put your best efforts into stitching the garment, too?
You might be able to take a sewing class at your local high school or trade school, but they are getting harder and harder to find.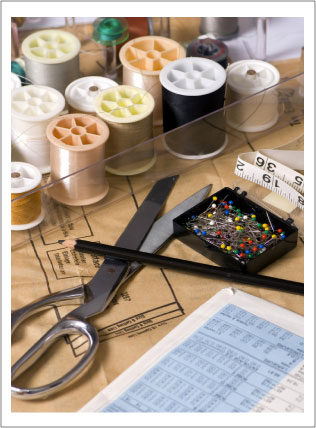 If you'd like to improve your sewing skills, I've listed some classes, all available from CreativeBug, Annie's Catalog, and the National Sewing Circle, that are a tremendous help. 

I am an affiliate of the businesses listed on this page, and receive a small commission from any classes purchased using the links below.  You can, of course, go directly to the various websites and purchase classes, without using my affiliate links.

Recommended Sewing Classes
- Posies and Pocket Apron -This would be a very good place to start if you're new to sewing apparel. Although this class from Annie's Catalog teaches how to sew an apron, the apron has gathers at the waist, a waistband (that extends into ties), a pocket, and a topstitched hem. These are elements that you can also use to sew a skirt!
- Wardrobe Basics: Sewing Tunic No 1 - This class, from CreativeBug, supplies a downloadable PDF pattern for a simple tunic, and then walks you though the steps to cut the top, add patch pockets, and a self bias neckline. There are also instructions for using the tunic pattern to create other garments!
- How to Make a Circle Skirt - If you're a fan of circle skirts, this video lesson will give you tips on fabric selection, notions, and stitching your skirt. This video is FREE from National Sewing Circle, and it also shows you how to stitch a narrow hem on a curved edge - well worth a look, whether or not you choose to make this skirt!
- Learn to Sew Clothes - This class from CreativeBug uses commercial patterns (from Simlicity) to teach you how to cut the fabric, and then construct a gathered skirt (with side seam pockets!), and a top or dress with princess seams (they can be tricky!).
- Sewing with Simplicity: Garment Sewing for Beginners - Another class from CreativeBug, this is a fairly comprehensive beginner's class, covering everything from how to wind a bobbin, to how to read a commercial pattern, fabric selection, cutting your garment, stitching seams, setting zippers, and sewing the hem. This class will get you off to a great start!
- Sewing Necklines: Tips and Techniques - The neckline of a top, blouse or dress frames the face. Ensure that your neckline lays smoothly, without gaps or ripples, with this video class from National Sewing Circle.
- Practical Sewing Tips & Techniques - This class , from National Sewing Circle (online video AND DVD!) takes your beginner sewing to the next level. You'll learn how to set a zipper, stitch a hem, troubleshoot problems with tension, and set binding to an edge.
These classes can be taken at your own pace, and you can go back and review them whenever you like. CreativeBug requires a subcription membership, and National Sewing Circle offers one, too (although it's not required to access classes). A subscription allows you to take as many classes as you like for a monthly fee.
But be warned - I've bought several classes that I haven't even started yet; it can be addicting!
What's the Next Step?
Make sure you have the tools you need to start drafting your patterns, and let's start!

What Else Will You Need?
The "needs":

The "nice to have" tools:
Return to Clothing Patterns 101 Home Page

ClothingPatterns101.com does not sell the personal information of its users to anyone, ever.