How to Draft a Flare Short Pattern

Flared shorts are so cute and comfy!
And drafting a flare shorts sewing pattern is so easy, from your pant block.

To create the flare, start at the waist, at the outseam.
Draw a line from the waist to the hemline (midway between the crotch and the knee), adding as much as you wish.  I've drawn about 1" to 1 1/2" at the side hem - but even that small amount will add up to 4 - 6" additional all around each leg!
Starting your line at the waist will also add a bit at the hip, but not very much. It allows you to create a gentle curve at the outseam, which hangs nicely on the body.

On the inseam, start just below the crotch and draw your line to the hem - adding the same amount you added to the outer side!!  This line will have a little curve just under the crotch line, just as the original inseam did.

Make the same alterations on the front and back pant leg.  It is critical to add the same amount to the hemline on each side of the leg (inseam and outseam), and to the front and back leg.  This keeps the leg balanced so it will hang properly, without skewing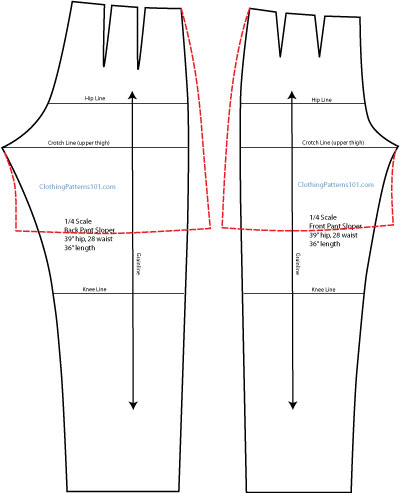 The final shorts pattern will look something like this: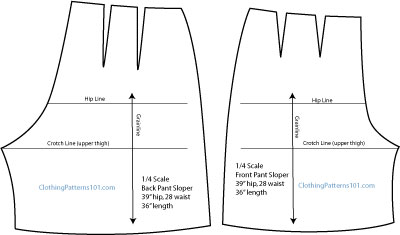 Shorts, of course, can be almost any length, and they can have more or less flare than what I've demonstrated here.

Don't be afraid to experiment!  Make more fitted shorts by simply shortening the pant block and maintaining the leg width.  Make Bermuda shorts that are closer to your knee, or short-shorts with a 2" inseam.  It's up to you!
Just be sure to balance the leg by adding the same amount on each side of the leg, and on the front and back leg. 

More Pant Styles

Return to Clothing Patterns 101 Home Page

ClothingPatterns101.com does not sell the personal information of its users to anyone, ever.