How to Draft a Tunic Top

A tunic is super easy to wear, and it hides a multitude of "sins"!  It will make you look long and lean, hide wide hips or a big belly, and looks great with skinny pants, jeans, or a shorter skirt.

The tunic is basically a longer version of a blouse or top, often a pull-over-the-head style.
Vents at the hem allow easy movement (the hem can be too restricting without them, so I highly recommend simple vents).
You can cinch the waist with a belt if you like, or just wear it straight.
And it's so easy to draft!

You'll be using your basic blouse block for this pattern.
And don't forget to finish your pattern! Add seam allowances, hems, and facings when you're done!

How to Draft the Tunic
A tunic is generally 4 - 6" longer than the blouse (which ends at the hip).
Add about 1" at each side seam, at the hem, and taper to meet the armhole of the blouse block.

There is no need to add to the bust or shoulders.  A natural fit, with a bust dart, will be most flattering.
You can also "hide" the bust dart with a yoke seam across the front.

A vent at each side seam, at the hem, will also allow for ease of movement.
Place a notch approximately 6" above the hemline to mark the length of the  vent opening.
Make sure that the slight flare at the sides is the same front and back (the total width of the pattern may not be the same, but the angle and length of the side seams should match).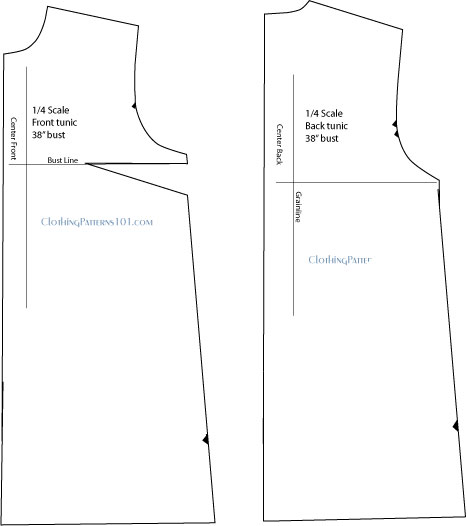 What's the Next Step?
Decide if you want to add sleeves, and what style of sleeve.  If you use a blouse sleeve, remember to lower the armhole of the dress, just as you did on the basic blouse.  You'll have a bit more room to move, and you can use your blouse sleeve to draft your dress sleeve.
You can also choose a different neckline or add a collar, too.

Then finish your pattern with a hem, seam allowances, and markings, and you're ready to make your new dress or blouse!
More Blouse Body Styles
Return to Clothing Patterns 101 Home Page

ClothingPatterns101.com does not sell the personal information of its users to anyone, ever.