Cutting Tools, Scissors and Shears
Cutting Tools - Scissors and Shears

You'll need cutting tools to make your patterns and your fit samples - but remember, your paper scissors and fabric shears are NOT the same thing!!
Click on the TEXT links below to go to the item in Amazon.  As an Amazon Associate I earn from qualifying purchases. This helps to keep this site free for your use. You are free to search Amazon for these or other similar items without using the affiliate links on this page. 

Paper scissors are used to cut your paper pattern, not your fabric. Please do NOT use your good fabric scissors to cut patterns!! You WILL ruin them.
A simple, inexpensive pair of scissors are fine – you don't need anything fancy here. A 6" - 8" blade will cut most pieces. 
It's also handy to have a short, 2" blade also for cutting smaller pieces or tight curves.
I always buy these at a discount store or Amazon.  You can often find them for less than $5 - which is very good, because they tend to get dull and need to be replaced often.
---
A good pair of fabric scissors or shears are necessary to cut your muslin and your fashion fabric when you make your garment. 
Assuming you already sew, you probably have a pair of shears at your disposal.  If not, I highly recommend Gingher shears. 
Fiskars are a good, lower-cost alternative, too, but they don't sharpen as well and aren't a good long-term investment like the Ginghers are. In this case, I'd buy the best you can afford.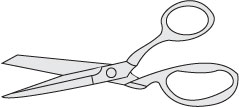 ---
A rotary cutter is another option for cutting your fabric, although I personally much prefer a good pair of fabric scissors or shears. 
The rotary cutter, however, is great for cutting bias strips for bias binding or taping a neckline or armhole. 
What Else Will You Need?
The "needs":

The "nice to have" tools:
Return to Clothing Patterns 101 Home Page

ClothingPatterns101.com does not sell the personal information of its users to anyone, ever.