Pant Design from Start to Finish!
Are you a person who lives in pants?

As a little girl, I loved dresses and dressing up.  But as an adult - I wear nothing but pants, jeans, shorts - anything but skirts and dresses!
If pants are your passion, why not make your own?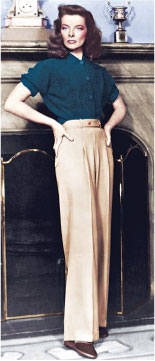 The Beginner's Guide to Drafting a Pant Block and Designing Pant Styles will show you how to draft a block that fits your body, and then manipulate that block to create virtually any style of pant that you like. 

How do you do that?
It's not nearly as difficult as you might think.  Many people are intimidated by the thought of making - or worse, fitting - their own pants.
But you can do it - I'll walk you through it.  
First, you'll take a set of measurements and draft a pant block (a template or basic pattern that's used mostly to get your perfect fit). 
Then, you'll make a mock-up or sample from a plain, woven fabric like muslin (or an old sheet!).  You'll use that to do fittings and make corrections to ensure that your block fits you well.  If you block fits, then everything you make using that block will fit - no more lengthening or shortening legs, or dealing with crotch lengths or waistbands that don't fit.
Once you've made your corrections and have a good block, you'll use that basic pattern as the basis for other styles. 
Add flare to the pant leg, or taper it and make it skinny.  Make it into a shorter capri or a pair of shorts.  Use it to create culottes or even jeans!
The Beginner's Guide to Drafting a Pant Block and Designing Pant Styles is a complete course in pattern design for pants, trousers, shorts, and more - any type of pant style you like. Don't be afraid to express yourself!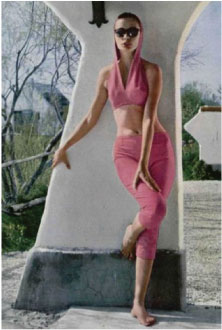 Then what happens?
Well, then you start to create a whole new wardrobe of pant styles, and wear them with pride!
They're your style, they'll fit great and look great - and so will you!
---
The Beginner's Guide to Drafting a Pant Block and Designing Pant Styles
---
Course materials are available as downloads. Ordering is easy!
Just click the button!
Then download the files to a safe place.  You own all the files - both the pdf and video files - and will have unlimited access when you save them to a flash drive or cloud storage. 
Take control of your closet and design the clothes you want to wear - clothes that fit perfectly and look great!
Sales tax will be applied to all purchases from the State of Wisconsin, USA.
Return to Clothing Patterns 101 Home Page

ClothingPatterns101.com does not sell the personal information of its users to anyone, ever.