---
Pattern Courses to Upgrade Your Skills
If you're familiar with this site, you have probably already tried your hand at designing and drafting your own sewing patterns.  
You're on your way to designing a whole new wardrobe!
Are you ready to dive a bit deeper? Explore a bit more - more styles, more detail, more options...
Introducing "The Beginner's Guide...". a series of pattern courses that will help you create clothing that makes you look and feel confident, comfortable, and stylish. 
"The Beginner's Guide" courses are designed to help you, as a (somewhat) experienced seamstress, learn the skills you need to design and draft your own sewing patterns for clothes that will fit and flatter every time.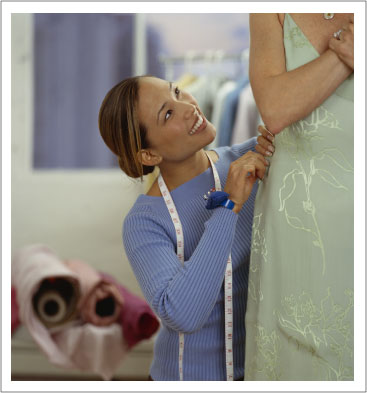 Let's face it, most of us do not have fashion-model figures. As a non-standard size myself (I'm short, fat, and way over 40 - so things have shifted!), I know all too well how hard it is to find clothes that fit and look good in a retail store - or in a commercial pattern.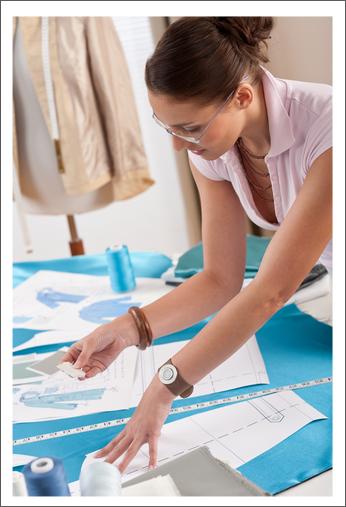 I've already helped hundreds of women learn to design and draft sewing patterns through these classes, sold as separate tutorials. 

The courses are based upon apparel industry practices, which I've used for more than 20 years. 
It's called the Flat Pattern Method, and it utilizes a basic block pattern that you'll use as a template for all of your fashion patterns. 
This block is first altered to fit you - so you never have to shorten sleeves, lengthen the bodice, or adjust the darts ever again. 

Here's how it works:

Draft your block, using the tutorial. Then cut it from muslin and stitch it together. 
Fit the block, making whatever alterations you need to ensure a perfect fit.  This part is time consuming, but don't cut corners! There are basic instructions in the tutorial, but you can also find more information about fit in books available from Amazon, listed below. 
Make your final block, incorporating the alterations you just made.
Start sketching!  Put your ideas on paper, and let the ideas flow! You're the designer! You can use these sketchbooks to get started. 
Draft your pattern, using the techniques in the tutorials, for the wardrobe of your dreams! Design dresses, skirts, and blouses, and add sleeves, cuffs, collars or a unique neckline.  Or design pants, capris, shorts, culottes - even jeans!
Cut and sew your new garment.
Wear your new style with pride!
---
All courses are available as DIGITAL DOWNLOADS.  Ordering is easy!
Just click the button!
Then download the files to a safe place.  You own all the files - both the pdf and video files - and will have unlimited access when you save them to a flash drive or cloud storage. 
Take control of your closet and design the clothes you want to wear - clothes that fit perfectly and look great!
---
Dress/Skirt/Blouse Courses
---
---
Save EVEN MORE by bundling ALL 5 Dress courses - from drafting your block to styling skirts, blouses, necklines, sleeves, and darts!
Full Dress Design Bundle
---
Pant Courses
---
Bundle and SAVE!  Bundle the Pant Block and Pant Styles courses together!
Pant Design Bundle
---
Sales tax will be applied to all purchases from the State of Wisconsin, USA.
---
---
Before you make a pattern, you need to make a sketch!
The first step in designing your own clothes is making a sketch of what you have in mind. 


Using a sketchbook with croquis (posed body templates) helps you to truly visualize your design - how it will look on a real person, in real proportions, front and back - and even in the colors you choose (using colored pencils)!

These sketchbooks have realistic body proportions, and are available in both misses and plus size bodies (and the books themselves are available in full page or half-page sizing - perfect to stash in a tote!).  

These sketchbooks are my own design. 
Click on the images, below, to go to the item in Amazon.  As an Amazon Associate I earn from qualifying purchases. This helps to keep this site free for your use. You are free to search Amazon for these or other similar items without using the affiliate links on this page. 
---
Need More Help with Fitting Issues?

The examples on this site reflect MY fitting issues and how I resolved them.  Your body is likely very different. 
But, since this is a site about the mechanics of making patterns and not specifically about fitting, I'm not going to address other fit issues here. And believe me, there are others who can address this issue better than me.
Any of the books listed below will help you achieve good fit. You can use the techniques on any pattern; but why make the same corrections over an over again?  Apply the principles to your block, and the fit corrections YOU need will be automatically built in to every pattern you make!

I can recommend any of the following books to help you achieve good fit, no matter what your size or shape.  I own or have used almost all of the books on this list, and have been pleased with how they address fit problems.
Click on the images, below, to go to the item in Amazon.  As an Amazon Associate I earn from qualifying purchases. This helps to keep this site free for your use. You are free to search Amazon for these or other similar items without using the affiliate links on this page. 
• Pattern Fitting With Confidence - Written by the late Nancy Zieman, host of the TV series "Sewing with Nancy". She provides a straightforward, down-to-earth approach to sewing and fitting. Very user-friendly.
• The Complete Photo Guide to Perfect Fitting - I love this book!!! So wonderfully illustrated with photos, using commercial patterns to demonstrate the pattern alterations. It addresses almost any fit problem you might have. So easy to understand and follow!
• Sewing for Plus Sizes - Creating Clothes that Fit and Flatter  - A great book for Plus sizes!  As a woman gets larger, it's not just the measurements that change - our overall proportions shift, too.  This book addresses the different body types and proportions you commonly see in larger women. Truly helpful for larger women.
Return to Clothing Patterns 101 Home Page

ClothingPatterns101.com does not sell the personal information of its users to anyone, ever.