Muslin for Mock-Ups and Samples

Muslin (an unbleached, plain-weave cotton fabric) is so commonly used for mock-ups of patterns that the mock-up itself is referred to as "a muslin". (A mock-up, by the way, is a very preliminary sample you'll make to see if the pattern or styling is working.  Unlike a prototype, which is constructed in a manner very close to the final product, a mock-up does not have facings, zippers or closures, or hems)

Click on the TEXT links below to go to the item in Amazon.  As an Amazon Associate I earn from qualifying purchases. This helps to keep this site free for your use. You are free to search Amazon for these or other similar items without using the affiliate links on this page.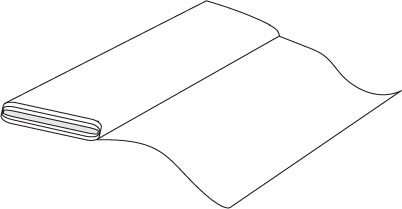 You can use any fabric for your mock-ups and samples.  This is the traditional cloth, used because it's readily available and inexpensive.
If the garment you are working on will be made of a knit fabric, your samples should be made with a similar knit.
If the garment you're working on will be made with a woven fabric, use a woven (like muslin) for the mock-up; but any plain-weave woven will do for the initial sample.  Even an old sheet will do! 
But it should be light colored and even weave, so that the grain lines aren't confusing and you can easily see whatever markings you need to make on your sample.
A set of pattern weights are, for me, much easier to use than pins for holding your pattern in place while you cut. 

The link, above, is for a very nice set of weights, but those drawn at left are really just very large washers you can get at any hardware store.  
A steam iron is really a necessity for sewing - although it's also something you probably already have. 

If not, this one from Amazon Basics is a good everyday iron and it's compact size makes it handy to keep near the sewing machine.

If you'd like to go cordless and also have the option of using your iron as a clothing steamer, this one from Panasonic is a good one. It's convenient, powerful, and versatile. 
Always, always, ALWAYS press your seams as you sew!  Whether it's for a mock up or sample, or a garment you're making to wear, pressed seams make a much neater, more professional finish.  Do NOT wait until the garment is done before pressing!!!
What Else Will You Need?
The "needs":

The "nice to have" tools:
Return to Clothing Patterns 101 Home Page

ClothingPatterns101.com does not sell the personal information of its users to anyone, ever.