Download Your Free Printable Pattern!
Thank you so much for subscribing to HulaKitty Patterns.  We're so happy to have you here!
I hope you enjoy your free sewing pattern.
---
The flared top pattern is available in both Misses sizes S - XL and Women's sizes 0X - 3X. 

Our sizes are similar, but not exactly the same, as retail sizes.  PLEASE REFER TO THE SIZE CHARTS, BELOW, TO CHOOSE THE CORRECT SIZE RANGE, especially if you are in the 12 - 18 range.  There is a difference between a 12 Misses and a 12 Womens, mostly in the waist and hips.
Once you have determined your size, Click the links, at right, and download your free sewing pattern.
Don't worry if you've chosen the wrong size - you can always come back to this page and download the other size range.
Once you've clicked on the link, it MAY open as another web page.  If that's the case, look for a download icon - on my screen, it's on the upper right side, and it looks like a square with a downward-pointing arrow. 
When you click on that, it will ask if you want to save the file or open it (using your pdf reader, usually Adobe Reader).  You can choose either option, but I generally open the file with the pdf reader, and then save it after I've opened it.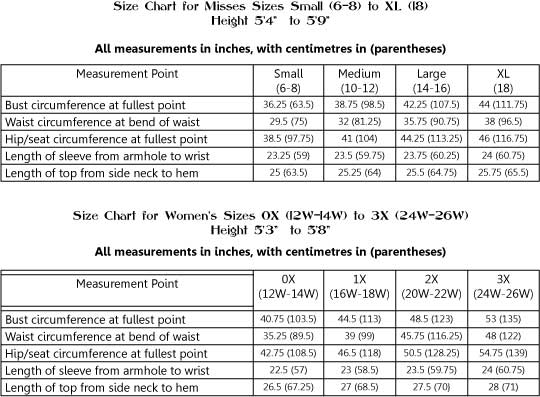 Then read through the instructions BEFORE you print the pattern.  There are a lot of pages to print and tape together, and, if you have a tablet or laptop available while you sew, you can eliminate the printing of some pages.
The pattern is also "nested", which means that several sizes are "stacked" together.  It might look like a jumble of colored lines, but you can separate them and print just the size you need, making the whole process much, much easier.  You can also print in "draft" mode, which saves ink!
The sewing instructions include illustrations, general sewing tips, and even links to YouTube videos demonstrating some of the techniques!

Enjoy your new pattern, and if you have any questions, please contact me at HulaKitty@ClothingPatterns101.com.
Return to Clothing Patterns 101 Home Page

ClothingPatterns101.com does not sell the personal information of its users to anyone, ever.