Dress Forms or Body Forms
Dress Forms or Body Forms

A dress form, or body form, is not cheap - but it's one of the best investments you can make if you plan on making clothing patterns. 
There are several options described below, including padding an inexpensive form you find at a yard sale (which is what I did!)

A body form that closely resembles your own body is essential.  There is little point in having a form if it isn't your size and shape.
It's almost impossible to properly fit clothing on yourself without a knowledgeable helper, so a body form is a great help.
Bear in mind that no dress form will be truly effective if it doesn't reflect your shape, not just your measurements.  No matter what form you use, I highly recommend padding your form to match your shape - and there's more information about that near the end of this page.

Click on the images, below, to go to the item on Amazon..  I am an affiliate of Amazon, and earn a small commission on the sale of these products.
Professional Body Forms
Professional body forms aren't nearly as expensive as you might think.
I highly recommend PGM body forms. They offer lightweight but sturdy versions of a professional form with a sturdy metal base, and some are not much more than the cheap forms at the fabric store.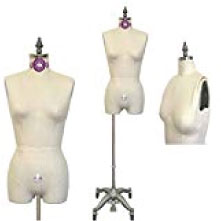 And their ¾ form is brilliant!  You can fit pants as well as dresses and tops (something that you really can't do on the cheap forms, even if they are split at the bottom) – but they are much less expensive than a full-body form.
I've used their ¾ forms and love them; it's on my wish list for myself very soon! These are the best value for your dollar and well worth the investment if you plan on making much of your clothing.
Store-Bought Body Forms

There are some relatively inexpensive forms available from your local sewing center or Amazon – but frankly, they are so light weight and flimsy that they often tip over when you put a dress on it.
These forms are not really usable for fitting pants.  Some have a notch at the bottom of the form that is intended to allow for the crotch of the pants, but it doesn't have the shape of the buttocks and upper thigh, which is critical for proper fit on pants. They're only useful for dresses, skirts and tops.

And, while they may be adjustable in size, it is virtually impossible to adjust them to your shape without adding padding.
I do not recommend these forms unless you have no other choice.
Padding Your Form for Shape

One of the best investments I've made is a padding system that you can use on ANY dress form, to make the shape more accurate.
The video, below, shows how I used these shaped pads to make an inexpensive dress form  look more natural.
---
Finally, if you are lucky enough to find a used dress form at a yard sale or thrift store, you can pad the form to match your measurements and shape. I show you how I did mine, on this page.
Again, you won't be able to use it for pants, but for a bargain price, I can live with that.
If you're mostly interested in dresses, skirts and tops, it will work well.  You can always fit pants on yourself with the help of a friend and a full-length mirror.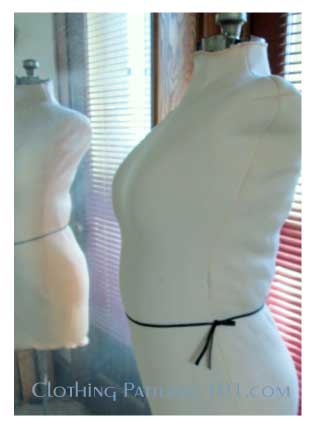 ---
What Else Will You Need?
The "needs":

The "nice to have" tools:
Return to Clothing Patterns 101 Home Page

ClothingPatterns101.com does not sell the personal information of its users to anyone, ever.