Skirt, Blouse and Dress Styles Tutorial
Design Dozens of Skirts, Blouses, and Dresses Using Your Dress Block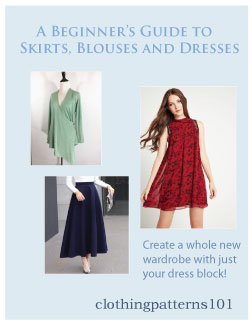 ---
My Dress Block is SO BORING!!  I'm Not Going to Wear That!!!
I have to admit it - a dress block is the most boring dress ever!  Why would anyone want to wear that?
Well, NO one wants to wear a dress made from the block - UNTIL it's been styled and re-designed. 
But the good news is - you can re-design it by adding fullness and styling details.  You can make it anything you want it to be!
Really?  I can turn that boring dress into something I like??!??!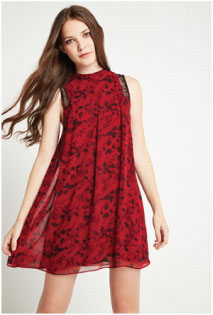 The purpose of the dress block is not to wear it "as is".  The purpose is to establish the perfect fit for you. 
Once you have established that fit, you can start adding styling details that actually make a great looking - and great-fitting - dress!
Of course, your dress block consists of a bodice and skirt - so you can style those garments, too! 
Make a skirt with pleats, flare, gathers - or even a shaped mermaid!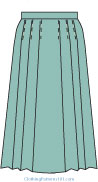 And your bodice can be used to create any number of lovely tops and blouses - and they don't have to have clunky darts and a super-close fit.  
A Beginner's Guide to Skirts, Blouses and Dresses shows you how to make dozens of styles using just your dress block. 
Make a skirt and blouse for work, or a cute sundress for a picnic with friends.  Casual or businesslike, you can create the styles that suit your taste and your lifestyle.
---
OK, Tell Me More - What's Included and How Do I Order?
Just click the button!
Then download the files to a safe place.  You own all the files - both the pdf and video files - and will have unlimited access when you save them to a flash drive or cloud storage. 
Take control of your closet and design the clothes you want to wear - clothes that fit perfectly and look great!
You'll get almost 80 pages of illustrated instructions, showing you the step-by-step process in designing dozens of dresses, blouses and skirts.  Close-fitting styles, relaxed fit, casual, businesslike - whatever you like to wear, you'll find ideas and instructions that will guide you to designing what YOU need to add to your closet!
And there are more than 6 hours of videos that demonstrate these steps.
But don't worry - you don't have to read and practice every style.  Just browse through the information and choose the styles, details or techniques you want to explore. 

---
Order Now and Get Started on a Whole New Wardrobe!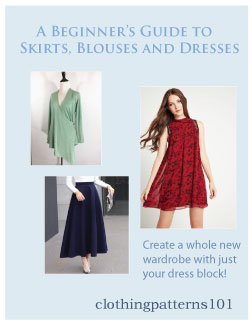 Purchase the Digital/Downloadable version of the tutorial.
You'll have instant access to the pdf files (which you can download and print) and to the online videos on a password-protected page on Vimeo.  The videos in this version are also downloadable.  The pdf files arrive immediately via email. 
   $24.97         USD 
Yes! I want to design skirts, blouses and dresses!
---
Sales tax will be applied to all purchases from the State of Wisconsin, USA.
---
ClothingPatterns101.com does not sell the personal information of its users to anyone, ever.