Necklines and Collars Tutorial
Design a New Neckline or Collar to Finish Your Blouse or Dress!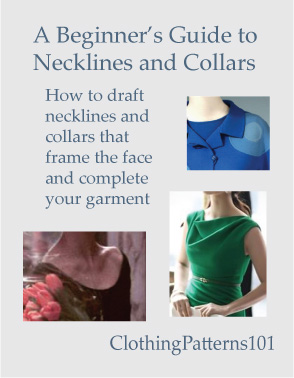 ---
Your Neckline Frames Your Face - Make it Perfect!
Your neckline or collar is often the focal point of your garment.  It draws the eye upward, framing your face - don't you want it to be perfect?
Whether you like a simple scooped neckline or a shawl collared blouse, the neck treatment you use in your clothing reflects your style.  
This tutorial offers instructions for cowl necks, sweetheart necklines, mandarin collars, sailor collars, shawl collars, notched collars, convertible collars - even a halter top!  
Each type of collar also has a wide variety of options (scalloped edges, collar points, and lots more).
A convertible collar can be used for a blouse or a lightweight coat or jacket, like the one at left.  
Worn open, it creates a lapel.  When closed, it looks like a shirt collar.
A straight, stand collar - like a Mandarin - is a very simple neck treatment. 
But make it taller and tighter, and it's a fashion statement.

A cowl is a lovely, draped neckline - but you don't need a body form.  This can be created using the "slash and spread" method with your basic bodice block.
All of these, and more, are included in A Beginner's Guide to Necklines and Collars
---
What's Included in this Tutorial?
This in-depth tutorial includes:
More than 60 pages of illustrated instructions showing you - step-by-step - how to create dozens of collars and necklines. Don't worry, we'll help you understand each step!
Well over an 3 hours of video that complements the illustrated instructions.  I show you how to do each step, for each neck treatment.  And I show you variation on many of the techniques - the shawl collar alone can give you many different looks!
Almost a dozen different techniques for creating necklines and collars - with several variations for each one!

Separate files with scale patterns that you can print and prepare for use with the tutorial.  These basic tools are used in design schools everywhere. You can practice, experiment, try out your idea, and just enjoy the design process using these scaled-down block patterns!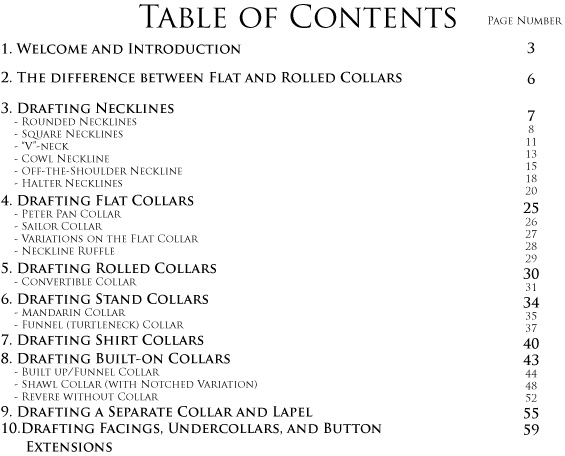 ---
Order Now and Start Designing Neck Treatments that Beautifully Frame Your Face!
Just click the button!
Then download the files to a safe place.  You own all the files - both the pdf and video files - and will have unlimited access when you save them to a flash drive or cloud storage. 
Take control of your closet and design the clothes you want to wear - clothes that fit perfectly and look great!
---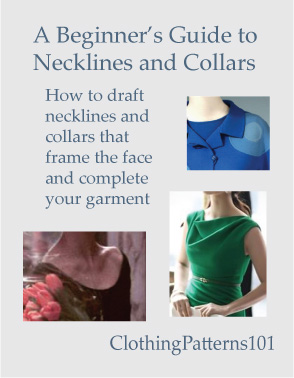 Purchase the Digital/Downloadable version of the tutorial.
You'll have instant access to the pdf files (which you can download and print) and to the online videos on a password-protected page on Vimeo.  The videos in this version are also downloadable.  The pdf files arrive immediately via email. 
   $24.97         USD 
Yes! I'd like to design necklines and collars!
---
Sales tax will be applied to all purchases from the State of Wisconsin, USA.
---
ClothingPatterns101.com does not sell the personal information of its users to anyone, ever.