Your Neckline Frames Your Face - Make it Perfect!
Your neckline or collar is often the focal point of your garment.  It draws the eye upward, framing your face - don't you want it to be perfect?
Whether you like a simple scooped neckline or a shawl collared blouse, the neck treatment you use in your clothing reflects your style.  
This tutorial offers instructions for cowl necks, sweetheart necklines, mandarin collars, sailor collars, shawl collars, notched collars, convertible collars - even a halter top!  
Each type of collar also has a wide variety of options (scalloped edges, collar points, and lots more).
A convertible collar can be used for a blouse or a lightweight coat or jacket, like the one at left.  

Worn open, it creates a lapel.  When closed, it looks like a shirt collar.
A straight, stand collar - like a Mandarin - is a very simple neck treatment. 

But make it taller and tighter, and it's a fashion statement.
| | |
| --- | --- |
| | A cowl is a lovely, draped neckline - but you don't need a body form.  This can be created using the "slash and spread" method with your basic bodice block. |
All of these, and more, are included in A Beginner's Guide to Necklines and Collars
What's Included in this Tutorial?
This in-depth tutorial includes:
More than 60 pages of illustrated instructions showing you - step-by-step - how to create dozens of collars and necklines. Don't worry, we'll help you understand each step!
Well over an 3 hours of video that complements the illustrated instructions.  I show you how to do each step, for each neck treatment.  And I show you variation on many of the techniques - the shawl collar alone can give you many different looks!
Almost a dozen different techniques for creating necklines and collars - with several variations for each one!

Separate files with scale patterns that you can print and prepare for use with the tutorial.  These basic tools are used in design schools everywhere. You can practice, experiment, try out your idea, and just enjoy the design process using these scaled-down block patterns!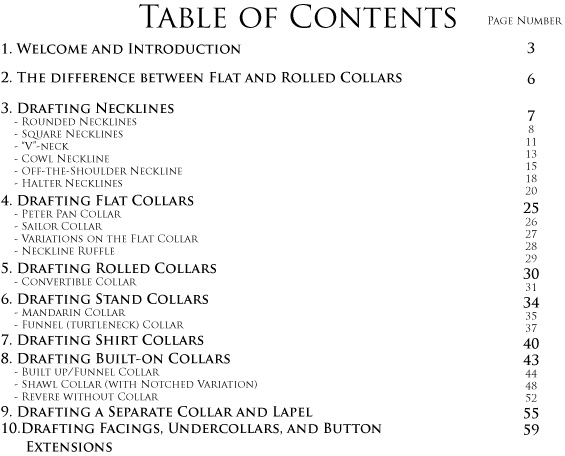 ---
Order Now and Start Designing Neck Treatments that Beautifully Frame Your Face!
Just make your choice between the downloadable version (with printable PDF files and online videos) or the DVD version (with PDFs and videos all on the disc). 
Then click the button!
Start now to add the perfect finishing touch to you garments!
---
  

Purchase the Digital/Downloadable version of the tutorial.

You'll have instant access to the pdf files (which you can download and print) and to the online videos on a password-protected page on Vimeo.  The videos in this version are not downloadable. Internet access is required to view the videos.

     $24.97   USD    

Yes! Teach me to draft necklines and collars
---
                                 

Purchase the DVD version of the tutorial.

You'll receive all of the same material as the digital version of the tutorial, but in DVD format.  This is the best option if your internet access isn't reliable or if you want a permanent, physical product.  The videos are included on the DVD (viewable on your computer, not a DVD player), so internet access is not necessary to view the videos.                   

     $29.97    USD    plus shipping.  

(Shipping is $7 USD within the US, $25 USD to Canada, and $34 USD internationally) 


Send me the necklines and collars DVD!
---
Sales tax will be charged for purchases within Wisconsin.
VAT will be charged on the digital download version in the European Union.
Return to Clothing Patterns 101 Home Page