Design Dozens of Pant Styles - Skinny, Flared, Jeans, and More!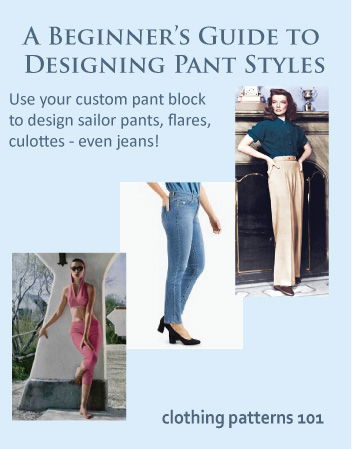 ---
My Pant Block is Blah - What Can I Do?

Yes, your pant block is boring.  Just a simple, straight leg and no styling details.  Who wants to wear that?
Well, you don't have to!  You can, of course, make a basic pant for everyday wear from your block pattern. But you can also re-invent your pant block, and make it almost any style you choose!
I Can Re-Invent the Pant Block?  How????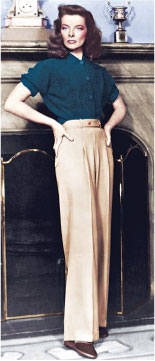 The purpose of the block is not to cut and sew the pattern as-is (although you certainly can do that). 

The purpose of the block is to establish the proper fit for you. 
Once you've established that fit, and have a basic block to start from, you can re-style that block into any number of styles. 
I love vintage style, because much of it is timeless.  These classic,  pleated menswear-style trousers on Katherine Hepburn could easily be worn today!
At the other extreme is this super-skinny, short cropped pant from the '60's.  Skinny pants are very popular - and these are NOT stretch leggings!  I'll show you how to shape the leg to conform to the body, while still allowing for movement.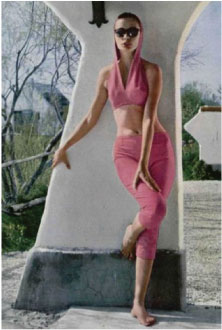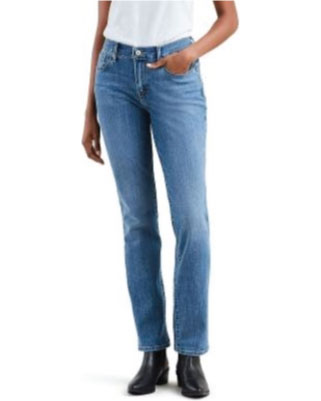 And who doesn't love jeans?  We live in our jeans!
I'll show you how to make jeans, too. Including all of the details - pockets, back yoke, contoured waistband, and fly front. 
I even have a video showing you how to put all the pieces together and sew the upper pant - I never do sewing videos (this is, after all, a pattern making tutorial, not a sewing tutorial)!
I also show you how to make a sailor pant, with a video demonstrating how to put together the button front.  
A Beginner's Guide to Designing Pant Styles shows you how to make a high waist and a low waist, wide legs and skinny, flares, palazzos, and even culottes!
Using this tutorial, you can design virtually any style you like!

---
OK, I get it.  But what do I get with this tutorial?
The tutorial includes 50 pages of illustrated text, showing step-by-step how to draft these styles using your block. 

There are also 12 videos (available to view online with the downloaded tutorial, or included on the DVD version).  These videos demonstrate the process and go hand-in-hand with the sketches and instructions. 
The videos also include the two sewing videos (jeans details and sailor front) and the introductory video you can view, above. 
But don't worry, you don't have to create every style!  Choose the ones you like and give it a try!
I've included a three-eighths scale block pattern for your use to experiment and practice the techniques.  And I show you waist treatments like facings and a gathered, paper-bag waist.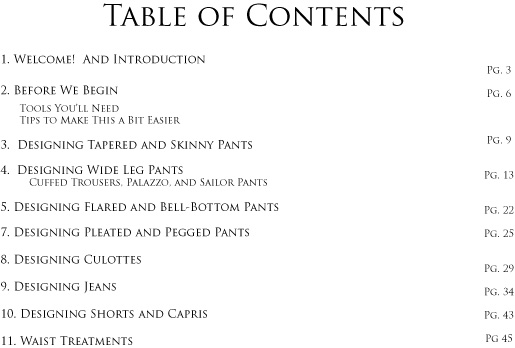 ---
Order Now and Start Designing a Whole New Pant Wardrobe!
Just click the button!
Then download the files to a safe place.  You own all the files - both the pdf and video files - and will have unlimited access when you save them to a flash drive or cloud storage. 
Take control of your closet and design the clothes you want to wear - clothes that fit perfectly and look great!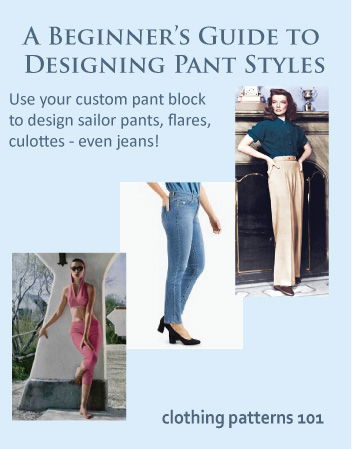 Purchase the Digital/Downloadable version of the tutorial.
You'll have instant access to the pdf files (which you can download and print) and to the online videos on a password-protected page on Vimeo.  The videos in this version are also downloadable.  The pdf files arrive immediately via email. 
   $24.97         USD 
Yes! I want to design pants!
---
Sales tax will be applied to all purchases from the State of Wisconsin, USA.
---
Return to Clothing Patterns 101 Home Page

ClothingPatterns101.com does not sell the personal information of its users to anyone, ever.