Learn to Draft a Pant Block Using Your OWN Measurements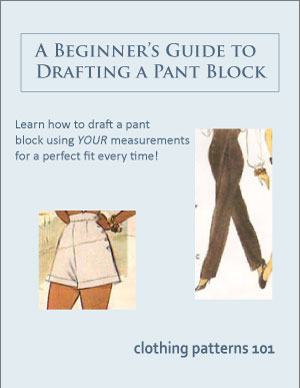 ---
Why is it so Hard to Find Pants that Fit?
Women come in all shapes, sizes, and styles.

So do pants.  Shorts, ankle-length, wide-leg, tapered leg - the variations are almost endless.
But none of them look good unless they fit well. Unless they fit YOU.
At 5'2" and a size 16, I know all too well that "off the rack" pants don't fit every woman.  I have to alter every pair I buy.
It's a never-ending battle!

Finding pants that fit your figure is hard.
MAKING them fit your figure is relatively easy!
Making pants, and getting them to fit properly, can be intimidating. 
But it doesn't have to be.  With a basic pant block, drafted to your measurements, you'll have the basis for pants of any style you like - and they'll all fit perfectly, with no alterations!
And drafting the block isn't as hard as you think.
In fact, drafting a pant block is easier than drafting a dress!  There is no sleeve, bodice, or skirt - just a front and back leg pattern.  And there are fewer measurements to take!
The "Beginner's Guide to Drafing a Pant Block" is the Start of a Whole New Pant Wardrobe
When you draft a block from your own measurements, you'll get a better fit than using a commercial fitting pattern. You'll have fewer fit corrections to deal with when fitting your block.

And with a well-fitting pant block, you'll have a good, basic pattern from which you can design any style you like! 


Make the legs wide, narrow, or shaped (like boot cut or bell bottoms).  Make any length you like.  Add a shaped yoke or a stylized waistband.

Or combine the pant with a bodice and make a jumpsuit!

With illustrated instructions and over an hour of video demonstrating the steps, we'll take you through the process, step-by-step. Don't worry, we're there to help!
---
What's Included With the "Beginner's Guide to Drafting A Pant Block"?
This in-depth tutorial includes: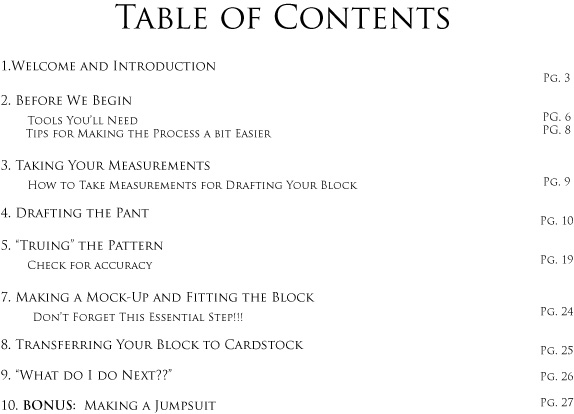 ---
Sounds great. So How do I Order?
Just click the button!
Then download the files to a safe place.  You own all the files - both the pdf and video files - and will have unlimited access when you save them to a flash drive or cloud storage. 
Take control of your closet and design the clothes you want to wear - clothes that fit perfectly and look great!
---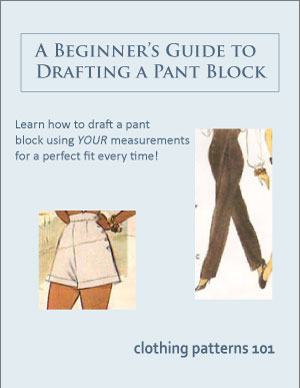 Purchase the Digital/Downloadable version of the tutorial.
You'll have instant access to the pdf files (which you can download and print) and to the online videos on a password-protected page on Vimeo.  The videos in this version are also downloadable.  The pdf files arrive immediately via email. 
   $24.97         USD 
Yes! Show me how to draft my pant block!
---
Sales tax will be applied to all purchases from the State of Wisconsin, USA.
---
ClothingPatterns101.com does not sell the personal information of its users to anyone, ever.