Learn to Draft a Dress Block Using Your OWN Measurements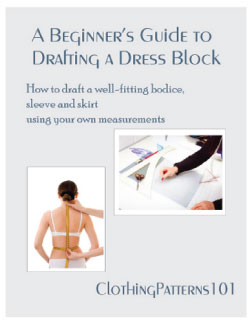 ---
Can't Find Clothes You Like in the Store?
Petite? Plus sized?  Too old for skimpy minis but too young for frumpy tents?
You probably have a hard time shopping for the clothes you like and those that fit you well.
You're not a cookie-cutter shape and don't have cookie-cutter tastes. 
I've been there - I'm 5'2" and a size 16.  The retail world will accommodate women who are short or fat, but not both!
So, I've been sewing since I was about 12 (and that was many decades ago!).  I've never been good at "trendy", but I'm sick of fumpy, "old lady" clothes, too.

So What Does This Have To Do With Drafting a Dress Block?
Everything!
The first step in looking good is wearing clothes that fit.  The second step is wearing clothes you like - those that reflect who you are and how you want the world to see you.
If you sew, maybe you're ready to take the next step - designing your own clothes and making your own patterns.

The "Beginner's Guide to Drafting a Dress Block" Will Help You Take That Next Step
When you draft a block from your own measurements, you'll get a better fit than using a commercial fitting pattern. You'll have fewer fit corrections to deal with when fitting your block.

And with a well-fitting dress block, you'll have a good, basic pattern from which you can design any style you like! 

Make the skirt more full, remove the sleeves, change the neckline, and voila!  You have a new dress - one that reflects your personality and style!



You'll use your dress block over and over again - and not just for dresses.  You'll use your block to design skirts, blouses, and tops, too.
With illustrated instructions and over an hour of video demonstrating the process, we'll take you through the process, step-by-step. Don't worry, we're there to help!
---
What Do I Get With the "Beginner's Guide to Drafting A Dress Block"?
Lots of stuff!
This in-depth tutorial includes: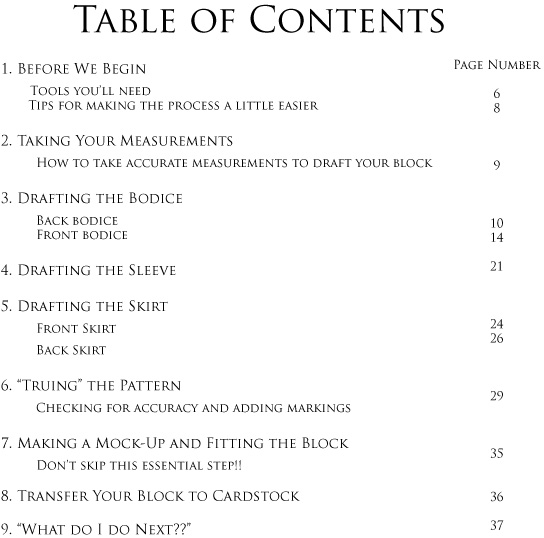 ---
Sounds Great!!  So How Do I Order?
Just click the button!
Then download the files to a safe place.  You own all the files - both the pdf and video files - and will have unlimited access when you save them to a flash drive or cloud storage. 
Take control of your closet and design the clothes you want to wear - clothes that fit perfectly and look great!
---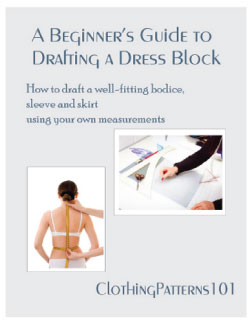 Purchase the Digital/Downloadable version of the tutorial.
You'll have instant access to the pdf files (which you can download and print) and to the online videos on a password-protected page on Vimeo.  The videos in this version are also downloadable.  The pdf files arrive immediately via email. 
   $24.97         USD 
Yes! Show me how to draft my dress block!
---
Sales tax will be applied to all purchases from the State of Wisconsin, USA.
---
ClothingPatterns101.com does not sell the personal information of its users to anyone, ever.